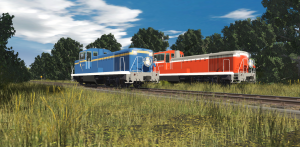 Left: "Hokutosei" livery DE10 1109 – Right "JNR-livery" DE10 1099
DOWNLOAD All the necessary dependencies are either included in this package or are avaible on the DLS.
The only major private railway to have purchased second-hand DE10s, Tobu Railway acquired DE10 1099 from JR East in 2016 as a helper locomotive for the "SL Taiju" steam train – the first "SL" tourist train operated by a major railway company.
In 2020, Tobu Railway purchased yet another DE10 from JR East, this time no.1109, wich was repainted in a livery inspired by the "Hokutosei" one worn by dedicated JR Hokkaido DD51s, complete with the "star" design on the cab sides.
Currently, Tobu railway's DE10s are used interchangeably mostly to assist the company's C11s on SL Taiju services, but they also run on "on their own" on "DL Taiju" services (when steam locomotives aren't avaible) or for other charter services.
Recently, with the complete withdrawal of Tobu Railway's electric locomotive fleet, the two DE10s started to be used on more "mundane" tasks as well, such as empty stock movements.