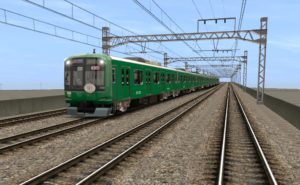 This is a reskin of the Tokyu 5050-4000 Series made by Rizky_Adiputra and avaible on his website (JIRCtrainz.com)
All the necessary dependencies are either included in this .rar, included in the original content's package or avaible on the DLS.
DOWNLOAD In September 2017, 5000 series set 5122 (one of those made up of former Denentoshi line cars in 2009) was repainted into an all-over green livery with "T.K.K." logos on the sides (similar to the original 5000 series), to mark the 90th anniversary of the opening of the Toyoko Line. It carried this liviery until August of 2018.
The orginal 5000 series was made by Keimei a while ago and it's avaible on the DLS.
Trivia:
"T.K.K." stands for "Tokyo Kyuko Dentetsu Kabushiki Gaisha", the full (older) name of Tokyu Railway.