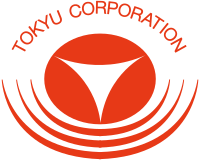 Tokyu Corporation (sometimes also called "Tokyu Railway") is a major railway operating a 7-line, 100Km long commuter railway network in south-eastern Tokyo, centered on Shibuya station.
Tokyu railway trains have inter-running services on the Hanzomon, Namboku and Fukutoshin Subway Lines (and also formerly on the Hibiya Line), on Tobu and Seibu railways and on the Saitama Rapid Railway and the  Yokohama Minatomirai Rapid Railway (of wich, Tokyu Railway is the major shareolder).
It's an incredibly wealthy company, having developed several new towns along it's lines (especially the Denentoshi Line) to attract more passengers. It's also the key component of the Tokyu Group, a conglomerate developed from the railway itself, wich manages real estate around the Tokyu Railway Lines, two smaller railway companies (Ueda Kotsu and Izukyuko Railway), "Tokyu Hands", a department store chain operating in Japan and overseas and several others businesses, including bus operators, leisure companies and construction agencies.
It also owned the Pan Pacific Hotels and Resorts company (sold to UOL Limited), the JAS air company (merged with JAL), the Shiriyoka departments store chain,  the Tokyu Car Company (one of the most prominent rolling stock manufacturers of Japan) and Mago Island in the pacific ocean (wich was bought by Mel Gibson).
It also founded the "Toyoko Eiga" in 1938, wich would become the Toei Animation company in 1951.
The "Tokyu" name is a contraption of "Tokyo Kyuko" ("Tokyo Rapid Railway").
Toyoko Line
18m-long cars stock – trough-services with the Tokyo Metro Hibiya Line and the Tobu Iseaki Line (discontinued in 2013)

20m-long cars stock – trough-services only with the Minatomirai Line




trough-services with the Tokyo Metro Fukutoshin Line, the Seibu Ikebukuro Line, the Tobu Tojo Line and the Minatomirai Line (since 2013)


Denentoshi Line 
trough-services only with the Tokyo Metro Hanzomon Line

trough-services with both the Tokyo Metro Hanzomon Line and the Tobu Iseaki/Skytree Line

Oimachi Line





Meguro Line  (trough-services with the Tokyo Metro Namboku Line, the Toei Mita Line and the Saitama Rapid Railway Line)

Tamagawa Line


Ikegami Line


Former lines
Mekama Line  (split into the Meguro and Tamagawa lines in 2000)

Kodomonokuni Line (sold to the Yokohama Minatomirai Rapid Railway in 1997)

Train icons made by Curoka