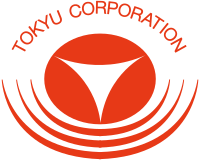 Tokyu Corporation is one of the most powerful Japanese major private railways; it operates a nearly 100Km-long network formed of seven lines (six railway ones and one tramway) of various degrees of importance radiating from the south-western quarter of the Yamanote Line and serving the south-western portion of the Greater Tokyo Metropolitan area, connecting central Tokyo with Yokohama and Kanagawa Prefecture.
Tokyu Corporation has it's origins in the Musashi Electric Railway, an interurban that had been opened in 1908. Under the guide of Keita Goto, appointed as president in 1920, the struggling company was able to completely turn the tables and begin a mass expansion program, acquiring other smaller railways (such as the Meguro-Kamata Electric Railway) and building new lines.
The company went trough several restructurations, culminating in the formation of the current Tokyu Corporation in 1924 as the "Tokyo-Yokohama Electric Railway".
The principal driving force behind the company rise and profitability was the innovative strategy, inspired by Hankyu Railway, of diversifying businness and enhancing railway fare revenue by developing new residential areas along it's lines, such as the extremely high-end Den-en-Chofu "garden city" (built along the Den-en-toshi Line, whose name, not casually, translates as the "Garden City Line") and new commercial centers around it's Tokyo-side terminals, mainly Shibuya, making Tokyu one of the most profitable and wealthy railway companies in Japan.
The company acquired it's current name "Tokyu" ("Tokyo Kyuko Dentetsu" – "Tokyo Express Electric Railway") during wartime, in 1942, when the Japanese Government mandated a merger of all private railway companies then in operation in the southern and western Tokyo area into Tokyu, forming a massive single entity, nicknamed "Dai-Tokyu" ("Big Tokyu") wich comprised the networks of Tokyu itself, Keio Railway, Odakyu Railway and Keikyu Railway.
After the war, in 1948, all the forcibly acquired companies were separate, with Tokyu returning with it's original pre-war network. In the subsequent decades, Tokyu Corporation proceeded to modernize itself, transitioning from interurban-style to proper full-railway operations.
A significant breaktrough came in the early 1960s, when Tokyu Corporation's own rolling stock manufacturer, Tokyu Car, acquired the production licenses for the stainless steel manufacturing techniques from the american Budd company, making Tokyu Car one of leader in this sector, with rolling stock orders coming not only from Tokyu Corporation itself (wich has only bought stainless steel rolling stock ever since) but also from all over Japan and the entire world!
Currently, Tokyu operates seven lines, each with it's own defining trait: four 1067mm gauge main lines operated with 20m four-doors type rolling stock (the Toyoko Line from Shibuya to Yokohama, the Denetoshi Line from Shibuya to Den-en-chofu, the Meguro Line from Meguro to Hiyoshi and the Oimachi Line from Oimachi to Futako-Tamagawa and Mizonokuchi), two 1067mm gauge "secondary lines" operated by 18m three-doors type (the Tamagawa Line from Tamagawa to Kamata and the Ikegami Line from Kamata to Gotanda) and the unique Setagaya Line, a 1372mm-gauge Light Rai with high platform operated by 2-car articulated trams.
Company-wise, Tokyu Corporation is the key component of Tokyu Group, wich has evolved from the various businness diversifications of the company into one of the largest of it's kind: Tokyu Group currently includes or subsidizes several transportation companies (including two railways – Ueda Dentetsu and Izukyuko Railway), countless real estate and retail companies (including Tokyu Land, wich owns several buildings in key areas and Tokyu Hands, a supermarket chain with several overseas branches), Hotel and Resort chains, Construction companies, railway maintainance subcontractor companies for smaller railways, leisure enterprises such as amusement parks and many others, such as cable TV channels, advertising agencies and financial companies.
Furthemore, Tokyu Group also formerly included many more companies, among those Tokyu's own rolling stock manufacturer, wich was acquired by JR East in 2012 and renamed as J-TREC, Japan Air System – a domestic airline, Tokyo Eiga (a predecessor of today's Toei movie production and distribution company) and Mago Island in the pacific ocean, wich Tokyu sold to Mel Gibson – the american actor!
Toyoko Line
18m-long cars stock – trough-services with the Tokyo Metro Hibiya Line and the Tobu Iseaki Line (discontinued in 2013)

20m-long cars stock – trough-services only with the Minatomirai Line





trough-services with the Tokyo Metro Fukutoshin Line, the Seibu Ikebukuro Line, the Tobu Tojo Line and the Minatomirai Line (since 2013)





Denentoshi Line 
trough-services only with the Tokyo Metro Hanzomon Line

trough-services with both the Tokyo Metro Hanzomon Line and the Tobu Iseaki/Skytree Line

Oimachi Line





Meguro Line
trough-services with the Tokyo Metro Namboku Line, the Toei Mita Line and the Saitama Rapid Railway Line


Tamagawa Line & Ikegami Line


Former lines
Mekama Line  (split into the Meguro and Tamagawa lines in 2000)

Kodomonokuni Line (sold to the Yokohama Minatomirai Rapid Railway in 1997)

Train icons made by Curoka