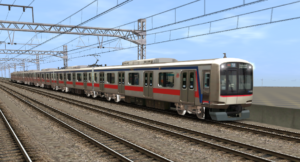 This is a reskin of the Tokyu 5050-4000 Series made by Rizky_Adiputra and avaible on his website (JIRCtrainz.com)
All the necessary dependencies are either included in this .rar, included in the original content's package or avaible on the DLS.
DOWNLOAD The 5080 series was introduced on the Meguro Line in 2003, to increase capacity on the line, following the start of inter running services with the Saitama Rapid Railway line (via the Tokyo Metro Namboku Line) and the newly-extended Toei Mita Line.
They are formed in 6-car sets based at Motosumiyoshi Depot (shared with the Toyoko Line).
Trivia:
5080 series trains are used on rare periodical special rapid services called "Minato Mirai" (along with Toei Mita 6300 series and Saitama Rapid Railway 2000 series trains), from Urawa-Misono on the Saitama Rapid Railway line or Nishi-Takashimadaira on the Toei Mita line, via the Tokyu Toyoko Line and the Minatomirai line, terminating at Motomachi-Chukagai.