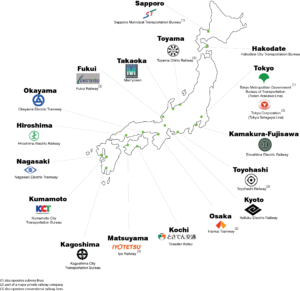 Keifuku Electric Railway – "Randen"
The Keifuku Electric Railway, nicknamed "Randen", operates a small 11Km-long network composed by the main 7.2Km-long Arashiyama line from Shijo-Omiya to Arashiyama and the 3.8Km-long secondary Kitano line, wich branches off the Arashiyama line at Katabiranotsuji station and runs to Kitano-Hakubaicho.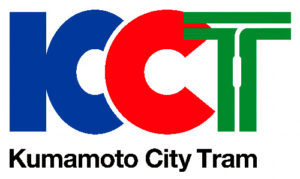 Managed by the Kumamoto City Transportation Bureau, it's a 12Km long "Y"-shaped network using the 1435mm standard gauge and 600V DC catenary. It's services are operated with two routes: "A" and "B".
Depsite the small size, the Kumamoto City Tram is quite famous for being one of the most "forward-minded" tramways in Japan, having introduced the first VVVF-controlled vehicle in 1982 (the 8200 Series) and Japan's first low-floor tram in 1997, the 9700 Series.