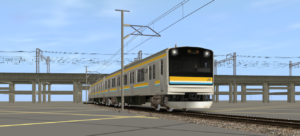 This is an update of the Tsurumi Line 205-1200 Series made by Rizky_Adiputra.
All the necessary dependencies are included in this package, avaible on the DLS or from Rizky's website 
Reskinned with permission.
DOWNLOAD A total of nine 3-car 205-1100 Series sets, converted from former Saikyo and Yamanote Line cars, were introduced on the Tsurumi Line between 2004 and 2005 to replace the 103 Series, wich was retired by March 2006.
The 205-1100s are equipped with a "3/4" door opening system, wich is used when the train has to stop at a platform that is shorter than the lenght of the train itself. The system "cuts-out" a designated set of doors (usually the last three ones, hence the "3/4" name), to prevent them opening where there is no platform.
At present, all the nine 205-3100 Series trains are still in service, and (togheter with Sagami Line 205-500s and Senseki Line 205-3100s) there is not yet a replacement planned, as the Tsurumi Line sees little traffic per day.