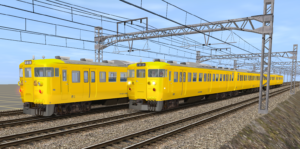 DOWNLOAD This is a reskin of Keinchiro's 113 Series upgraded by Hirochi. All the necessary dependencies are included in this package or are avaible on the DLS.
In case of missing dependencies, download this.
Historically, the Chugoku area (and Hiroshima in particular) had been quite neglected (railway-wise) by both JNR and JR West in it's early years.
As such, by the late 2000s, JR West was looking for ways to improve it's image, and one of the main ideas was to standardize it's rolling stock with a new livery (and if possible, appariscent one).
Nicknamed the "new Setouchi Area Livery" (as it was to replace, among many others, the "old" Setouchi Area one), the full-yellow livery was inspired (according to JR West's official documents) by "the reflection of the sunlight over the water of the Seto Sea".
In 2009, the first 115 Series set was repainted into the new livery, followed by a 113 Series set a year later, with the new livery completely replacing the older one in 2012 (for the 113 Series) and 2015 (for the 115 Series).
As of today, the Setouchi Area livery is one of the only two liveries (the other being the all-over dark green Kyoto and Kitakinki Area one) carried by 113 and 115 Series trains in operation with JR West, and with new rolling stock orders around the corner, it won't last much longer…
Trivia:
Upon it's introduction, the new setouchi area livery was nicknamed "Yellow Happy Train" by railfans, a reference to a similarily-named livery that the private Keikyu Railway had applied to one of it's 1000 Series sets.
In more recent years, as more and more JNR-desinged stock is being retired, the new setouchi area livery was "re-nicknamed" as the "Final Livery" or "Deathbed Livery", as it is very probably the last livery that will be worn by 113s and 115s (and 105s too) before their retirement.
113 and 115 Series  Mixed Consists download page