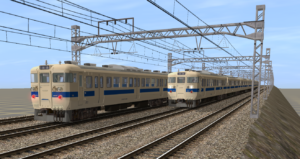 DOWNLOAD This is a reskin of Keinchiro's 113 Series upgraded by Hirochi. All the necessary dependencies are included in this package or are avaible on the DLS.
In case of missing dependencies, download this.
Ever since their introduction up to the late 1980s, the 115 Series operating on the San'yo Main Line had only worn the iconic and ubiquitous "Shonan" livery. This changed in 1989, as the newly-formed JR West decided to standardize it's trains' liveries based on the area they served.
Therefore, the San'yo Line 115 Series were repainted into a new livery of cream with a dark blue line, wich was based on the one already used by the 115-3000 Series: a special variant of the 115 Series with two doors instead of three and all-transverse seating that had been in use on rapid services around Hiroshima since 1982.
The process was swift, and by the late 1990s, all of the 115 Series sets assigned to the Shimonoseki, Okayama and Hiroshima depots had been repainted into the "Seotuchi Livery".
Starting from 2005, 113 Series trains displaced from "central Kansai" lines were transferred to the Chugoku region, repainted into the Seotuchi Livery and after very brief tests, entered service along the "native" 115s on local services on the San'yo Main Line and it's smaller branchlines.
Unfortunately, the cream-and-blue was costly to maintain, and JR West was thinking about a more "appariscent" look for it's trains to upgrade it's image, as the Chugoku area (and Hiroshima in particular) had been historically (railway-wise) quite neglected both by JNR and JR West in it's early years.
Starting from 2009, the new "seotuchi area" full-body yellow livery was introduced, progressively replacing all the older ones, not only on 113s and 115s, but also on all the JNR-designed stock such as the 105, 117 and 123 Serieses.
The San'yo Line 113 Series fleet was fully repainted into the new setouchi area livery by 2012, with the 115s following suit in 2015, ending the old setouchi livery's short, but intense story.
113 and 115 Series  Mixed Consists download page