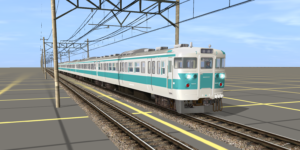 DOWNLOAD This is a reskin of Keinchiro's 113 Series upgraded by Hirochi. All the necessary dependencies are included in this package or are avaible on the DLS.
113 Series trains were introduced on the Hanwa Line in 1972 to be used on rapid services between Osaka (or Tennoji) and Wakayama.
Formed in 4 and 6-car sets and fitted in a distinctive white and light blue livery,wich based on the one of 153 Series trains that had been running the new "Shin-Kaisoku" rapid services on the Tokaido Main Line, they entered service in March of 1972.
As they were found to be well suited to such rapid services (they had been also well recieved by passengers), the 113 Series remained in use on the Hanwa Line for quite a long time; even after JNR was privatized in 1987, the 113s, now inherited by JR West but still in their white and blue livery, carried on without any trouble (even running a few services on the Wakayama Line and the Kisei Main Line), until the early 1990s, when JR West, to increase the top speed of rapid services, introduced it's own rapid train design: the 223-0 Series, capable of a top speed of 130Km/h (20Km/h more than the 113 Series).
The first 223-0 Series trains entered service in 1994, displacing the 113 Series, wich were repainted and relocated to Okayama Depot, altough a few (still in their Hanwa Line livery) ended up provisionally on the Kusatsu Line (in the Kyoto area) to supplement the line's fleet. Meanwhile, the Hanwa Line 113 Series fleet was getting thinner by the year, and by the early '2000s, there weren't many sets left.
This changed in 2005: after the Fukuchiyama Line derailment, JR West recalled all the trains fitted with the ATS-P saftey system (wich included the former Hanwa Line 113s) back to the "central" Kansai lines such as the Hanwa Line, as most of the newer trains (including the 223-0s) weren't fitted with it.
While the newer trains were provisionally taken out of service to being retrofitted with ATS-P, 113 Series "came back" to the Hanwa Line, repainted in their white and blue livery.
By the late 2000s, almost all of the 223-0s had been retrofitted with ATS-P, and in 2008 the new 223-2500 Series was introduced (and this time, they were fitted with ATS-P from the start), finally, and definitively replacing the 113s.
By the timetable change of March 2011, the Hanwa Line 113 Series operated only two roudtrips per day (one in the morning and one in the evening), wich was reduced to just one roundtrip on Sundays.
By late 2011, all the 113 Series trains had been replaced on Hanwa Line duties. The last blue and white 113 Series ran for the final time on the 10th of December 2011.
113 and 115 Series  Mixed Consists download page