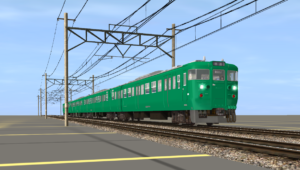 DOWNLOAD This is a reskin of Keinchiro's 113 Series upgraded by Hirochi. All the necessary dependencies are included in this package or are avaible on the DLS.
In the late 2000s, due to the introduction of several new train types, JR West decided to the reorganize and regroup it's fleet of 113 and 115 Series trains to two areas: the Setouchi area (from Okayama to Hiroshima to Shimonoseki) and the Kyoto-Kitakinki Area (northwards of Kyoto).
Two new "monochromatic" liveries were introduced at the same time to uniform the look of the trains in the two zones: the Setouchi Area Yellow livery and the Kyoto-Kitakinki area dark green livery.
The latter one was inspired, according to JR West's official documents, by the green color of the Matcha Tea used in the Japanese traditional "Tea Cerimony", for wich Kyoto is famous for.
The first train repainted into the new green livery was 113 Series set C3 in July 2010, and soon, the livery was extended to the rest of the 113 Series fleet (Kyoto doesn't have any 115s – they were all transferred to Hiroshima and Okayama), replacing all the previous ones, such as the iconic Shonan or the more sober "Café au Lait" of refurbished trains.
By the late 2010s, the last 113 Series set had been repainted into the Kyoto-Kitakinki Area green livery.
Nowdays, 113 and 115 Series trains in JR West have all been repainted into either the Setouchi Yellow or Kyoto-Kitakinki Green liveries. As such, there are no longer trains in service colored in the "Café au Lait" livery (nor in any other livery, for that matter).
113 and 115 Series  Mixed Consists download page