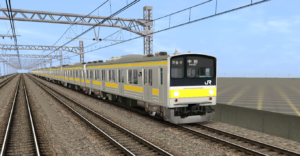 This is a reskin of the Nambu Line 205 Series by Rizky_Adiputra.
All the necessary dependencies are included in this package, avaible on the DLS or from Rizky's website 
Reskinned with permission.
DOWNLOAD Originally, the 201 Series was intended to replace the ageing 101 and 103 Series trains on the Chuo-Sobu Line, but as 201 Series production stopped in 1983, the goal wasn't achieved.
JR East sought to continue the replacement of the 103 Series; 205 Series trains were introduced in August 1989, picking up where the 201 series left, but as there were lots of other heavily used lines in desperate need of new rolling stock, 205 Series introduction was diverted to those other lines. Thus, not even the 205s managed to replace the 103s.
In 2000, finally the E231-0 series stepped in replacing not only the 103, but also the 201 and 205 series, all being retired by 2001, with some 205 Series sets being repainted and transferred to the Saikyo Line.
Trivia:
In early 2000, there was a grand total of 10 different serieses (103, 103-1000, 103-1200, 301, 201, 205, 209-500, E231-900, E231-0 and E231-800) from 4 different generations all running togheter on the same Chuo-Sobu Line (12 if we count also the TRTA Tozai Line 5000 and 05 Serieses).