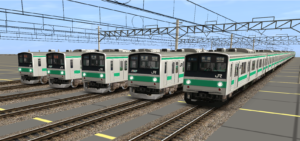 This is a reskin of the Nambu Line 205 Series by Rizky_Adiputra.
All the necessary dependencies are included in this package, avaible on the DLS or from Rizky's website 
Reskinned with permission.
DOWNLOAD The Saikyo line was built in 1985, along the Joetsu Shinkansen. This is because the construction of the Shinkansen was disrupting the lives of those living along the planned route (and as it has no stops it wouldn't benefit them), so as a compromise, JNR was allowed to continue construction of the Shinkansen, but at the same time building a new commuter line along it. When it opened, the "New Commuter Line" (as it was called) and the Akabane Line merged togheter to form the Saikyo Line (Saitama – Tokyo). When the Rinkai line connection between Tennozu Isle and Osaki opened in 2002, Saikyo Line trains started to run all the way to Shin-Kiba. There are also some trains that run trough-services with the Kawagoe Line.
Initially operated with 103 Series trains from the former Akabane Line, the Saikyo Line was the first line to introduce JR East-built 205 Series trains (after the Yamanote Line).
The main differences between the JNR-built and the JR-built trains were mainly the door windows (small on the JNR ones, large on the JR ones) and other small improvements to simplify construction.
The smaller door windows were used by JNR as they were said to prevent injuries to children who got their fingers trapped in the door pocket while looking out the window. They were first introduced on the TRTA Maronouchi Line 500 series, but gradually fell out of use by the late '80s.
Between the late 1990s and the early '2000s the "original" Saikyo Line sets were joined by 205 Series sets transferred from the Keihin-Tohoku and Chuo-Sobu Lines, with the infamous 6-door "cattle" cars also being introduced on the line at the same time; and around 2010, the front destination boards of the trains were changed from the roller-blind type to LEDs.
The 205 series was later replaced by the E233-7000 Series starting in 2013, with the final run of a Saikyo Line 205 Series set in 2016.
Some of the retired cars were refurbished and converted into 205-600 Series trains for the Utsunomiya Line, but most were sold to the Jakarta Commuter railway in Indonesia, where they still run to this day.
Trivia:
Correlated to the severe overcrowding problem, the Saikyo Line quickly became infamous for having the highest number of "chikan" (groping) crimes among all other railway lines in Tokyo.