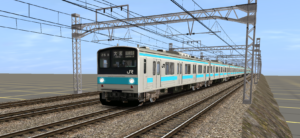 This is a reskin of the Nambu Line 205 Series by Rizky_Adiputra.
All the necessary dependencies are included in this package, avaible on the DLS or from Rizky's website 
Reskinned with permission.
DOWNLOAD While the rolling stock situation on the Chuo-Sobu line was bad, the one on the Keihin-Tohoku line was even worse.
Being an ATC equipped line, the 201 series couldn't run on it as originally planned by JNR  (something that could have been possible only retrofitting an additional space for the on-board ATC system, an expensive operation on an already very expensive train).
Instead JR East choose to introduce in service in 1989, almost as an emergency mesaure, ATC-equipped 205 series trains, similar to those on the Yamanote Line. They were a good solution, but by then, it was time to develop an entirely new train. Only 6 10-car 205 series sets entered service on the Keihin-Tohoku Line, and were used sparcely.
The new ground-breaking 209 series was introduced in 1993 to replace both the 205 and 103 series trains.
The six sets of the 205 series were retired in 1996 and moved to the Saikyo Line, while the 103 series (due to the far bigger number – 83 Sets) was retired only in 1998.
Trivia:
In the early-1990s, the JR Akihabara Station was served by 205 Series trains running on all the three lines (Yamanote, Chuo-Sobu and Keihin-Tohoku Lines) that stopped at the station.