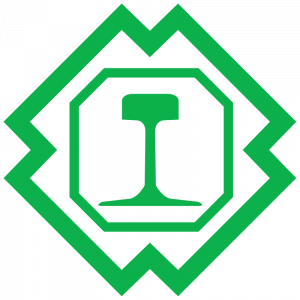 The current Izuhakone Railway was formed in 1957 as a merger of two different companies wich had been operating two different and unconnected lines on the two sides of the Izu Peninsula since the late 1800s. The first, the 9,6Km-long Daiyuzan Line, had been opened in 1925 by the Daiyuzan Railway and ran from Odawara station (on the JNR Tokaido Mainline) northwards to Daiyuzan, at the foot of Minamigashihara Mountain. The other, the 19,8Km-long Sunzu Line, had been opened in 1898 by the Sunzu Railway and ran from Mishima station (also on the JNR Tokaido Mainline) southwards to Shuzenji.
The Izuhakone Railway has been a subsidiary of Seibu Railway (as part of the Seibu group) since it's formation in 1957 and even before, with both of the "original companies" having already came under Seibu Railway's umbrella in 1916.
The Izuhakone Railway became a valuable asset to the Seibu Group during the ferocious "Hakoneyama War" of the early 1960s, when Tokyu Railway, Odakyu Railway and Seibu Railway  began investing heavily in tourist development on the Izu peninsula and around Mount Hakone (both popular destination for day-trippers from Tokyo) each attempting to outst the other two competitors. Izuhakone Railway was intended as Seibu's spearhead in the area, as the company didn't have enough foot there, unlike it's competitors Tokyu and especially Odakyu.
During the Hakoneyama War, Izuhakone Railway started aggressively developing the areas around it's lines, building hotels, resorts and cable cars. The company also acquired several smaller bus operators, wich were consolidated into a single Izuhakone subsidiary, and began also operating several tourist ferry services.
As of today, with the frenzy of the Hakoneyama War having died several years ago, Izuhakone Railway has returned to be a quaint and tranquil local railway. The company is still a part of Seibu Group to this day, having become a "consolidated subsidiary" in 2005.
Sunzu Line