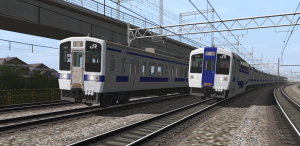 All the necessary dependencies are included in this .rar or are avaible on the DLS.
DOWNLOAD The JR East 415 Series pack is required for some consists.
Out of the two JR Group companies to inherit 415-1500 Series trains, JR East was the only to order an additional batch, doubling it's fleet with an order for thirteen more 4-car sets placed to Nippon Sharyo and Kinki Sharyo in 1991.
The trains in the JR East-ordered batch were nearly identical to the ones built during the JNR Era, with only small, very minor improvements. The last of the thirteen JR East-ordered sets however fetaured an unique car: KuHa 415-1901, an experimental double-decker cab car built by Nippon Sharyo.
KuHa 415-1901 was intended to act as a testbed for the viability of introducing double-decker cars in regular service as a countermesaure against overcrowding and to act as a prototype for JR East's plans for an all-double-decker suburban train.
The cab car's bodyshell was derived from the double-decker SaRo 124 green cars for 211 Series trains, and therefore it's shape was essentially identical to standard 415-1500 Series (and by extension, all 211 Series family derivatives) single-level cars. To transform it into a double decker car, a "bathub" was added to the underloor, containing seating for the lower level, and a rounded top section, containing the upper level, was added on top, with great care not to exceeding the railway's loading gauge.
However, the experiment backfired, as while the capacity of KuHa 415-1901 was surely superior to single-level cars, the low number of doors made boarding and alighting slower, confirming double-decker cars as unsuitable for Japan's extremely dense commuter railway operations. Thus the set containing KuHa 415-1901 was limited as much as possible to off-peak services, running rapid services between Ueno and Katsuta.
With the introduction of the E531 Series in 2005, JR East started a general re-organization of it's 415 Series fleet: the older "conventional steel" were to be fully replaced, while the 415-1500 Series, due to it's relatively more modern design, was to be displaced to local service workings on the rural section of the Joban Line, north of Iwaki, and on the Mito Line. With this general reformation, the "non-standard" 415-1500 Series cars were retired, with KuHa 415-1901 being retired in 2006, followed one year later by SaHa 411-1701, wich was reired togheter with it's whole formation.
By the mid-2010s, all of JR East's 415-1500 Series sets had been relegated to local services, and with the timetable change of spring 2016, the last remaining ones, running on the Mito Line, were officially retired on the 26th of March of the same year.