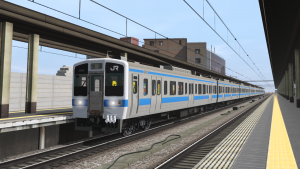 All the necessary dependencies are included in this .rar or are avaible on the DLS.
DOWNLOAD The JR Kyushu  415 Series pack is required for some consists.
Unlike with JR East, the situation of JR Kyushu's fleet of 415-1500 Series trains has remained nearly unchanged since 1987, with all eight JNR-built sets still in service, togheter with an additional 4-car set that the company bought from JR East in 2009. As of today, the fleet is split between Minami-Fukuoka depot, for services on the Kagoshima Line, and Oita Depot for services on the Nippo Main Line.
JR Kyushu has not made plans to retire the 415-1500 Series yet: with the replacement of "conventional steel" 415 Series sets nearly complete, the 415-1500 Series remains as JR Kyushu's sole AC/DC commuter train in service, and as such, the company will still need them for services via the DC-only Kanmon undersea tunnel between Moji and Shimonoseki, atleast until a new order for multivoltage commuter trains is made. This is also reinforced by the fact that 415-1500 Series trains have stainless steel bodyshells, wich don't suffer from corrosion damage coming from saltwater, a common issue with their older "conventional steel" predecessors.