Part of the ACS-64 Pack requested by Mr.Kitten via the TRSR form – jump to the previous part.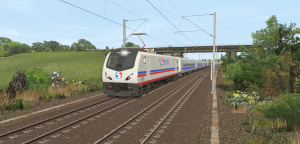 DOWNLOAD Changelog: 23/04/2022 fixed front road number indicators (incorrectly modelled with "610" instead of "910").
All the necessary dependencies are either included in the package or are avaible on the DLS. As a disclaimer, the dependencies that are not mine are property of their respective authors.
Piggybacking on Amtrak's order for the new locomotives, in May 2015 SEPTA decided to purchase thirteen (later increased to fifteen) ACS-64s from Siemens to replace it's fleet of seven AEM-7 and one ALP-44 electric locomotives on push-pull rapid and express services thruought it's Regional Rail network.
While awaiting the delivery of the new locomotives, SEPTA loaned ACS-64 no.664 from Amtrak in late February 2016 to test clearances (particularily in the center city tunnel) and performance.
SEPTA loaned ACS-64s again from Amtrak between summer 2016 until spring 2017, this time for revenue services, hauling amfleet or MARC bilevel cars as a an emergency replacement for the Hyundai-Rotem Silverliner Vs, all 120 of wich had to be pulled out of service due to discoveries, and subsequent repairations, of cracks on the frames and the bogeys.
Finally, SEPTA's first proper ACS-64 was delivered on the 14th of December 2017, and after the routine pre-service trials it was accepted into service, beginning revenue runs on the Paoli/Thorndale Line on the 11th of July 2018. 
Currently SEPTA's fifteen ACS-64s are all in service on push-pull trains formed of Bombardier-made SEPTA Is and SEPTA IIs coaches (equivalent to NJT's Comet Is and IIs), and since the simultaneous retirement of both the AEM-7s and single ALP-44s on the 1st of December 2018, ACS-64s are now the only type of electric locomotives in SEPTA's roster.