Fourth part of the Taipei Metro Pack – jump to the previous or next part.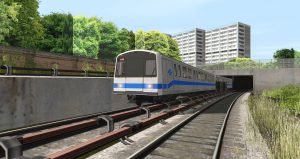 DOWNLOAD All the necessary dependencies are either included in this package or are avaible on the DLS.
The C341 Series was introduced in the early '2000s as the Taipei Metro's third heavy-rail train type, being purchased for the westwards extension of the Bannan Line, from Xingpu to Yongning (a section that was then known with the working name of "Tucheng Line", being named after the second-to-last station on the extension, Tucheng).
Interestingly, this time the purchase of the trains was done not by the DORTS, but by Continental Engineering, the construction company tasked with overseeing the construction of the line. Originall Continental Engineering proposal was to purchase the new trains from the South Korean KOROS (a joint-venture between Hyundai-Rotem and Daewoo), but this was rejected by the DORTS, as the Bannan Line was already operated by a uniform fleet of C321 Series trains built by Siemens a few years earlier, with the department being in favour of the more natural choice to purchase a new batch of similar (and compatible) trains from Siemens. Thus, an order for six 6-car sets was placed, with all trains (numbered 201/202 to 211/212), to be known as the C341 Series, built in 2003 at Siemens' Vienna plant (the former Simmering-Graz-Pauker works) and delivered to Taiwan in early 2004. Being built only a few years apart, there are very little differences between the C341 Series and C321 Serieses, as both share an identical bodyhsell: the only tell-tale details being the different front "detrainment ram" design and the different-sound – instead of being fitted with GTO-VVVF inverters as their predecessors, the C341 Series trains are fitted with IGBT-VVVF inverters (still made by Siemens however).
After being tested, all six C341 Series trains were handed over to Taipei Metro between early September and late November 2004 and finally entered regular service on the Bannan Line with the opening of the extension to Yongning on the 31st of May.
As of today, all six C341 Series trains are still in service on the Bannan Line, assigned at Nagang and Tucheng depots. Togheter with the C321 Series, all six trains will undergo the replacement of the inverters at the hands of TRSC.
Unlike other heavy-rail Taipei Metro trains, the C341 Series has been used exclusively on the Bannan Line, on wich it will remain for the forseeable future.