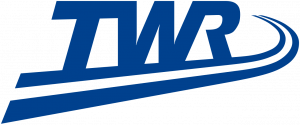 The Tokyo Waterfront Area Rapid Transit company was founded in 1991 to build and operate the Rinkai Line, a mostly-underground rapid railway that was intended to serve the newly-developing Tokyo Waterfront City, especially Odaiba. Construction of the Rinkai Line (then still known as the Rinkai Fukutoshin Line) began in 1992, partly using the former right-of-way of the abandoned Keiyo Freight Line. The first section of the Rinkai Fukutoshin Line opened on the 30th of March 1996, running between Tokyo Teleport and Shin-Kiba (where passenger could transfer to the JR Keiyo Line and the Yurakucho Subway Line). The line was extended one station westwards, to Tennozu Isle, on the 31st of March 2001. On the 1st of September 2001 the line was officially renamed to the current "Rinkai Line", and in 2002 the line was finally completed, reaching Osaki station on the 1st of December.
With the completion of the line, partial trough-services with the Saikyo Line began (at the time, roughly half of TWR services were troug ones, and the other half were Rinkai Line-only trains), and on the 16th of October 2004, Rinkai Line-only services were abolished, with all trains running on the Rinkai Line being trough-services with the Saikyo Line.
Currently, depsite the convenience of the Rinkai Line, TWR is struggling financially, due to intrest payment on loans (The Rinkai Line construction cost went well overbudget, totalling to 440 bilion yen) and a relatively low ridership (totalling 260 000 passenger per day in 2019) due to the competition of the Yurikamome AGT, wich gives a better, faster access to the western side of the Yamanote Line and it's favoured by tourists due to it's scenic wiews of Odaiba.
JR East has often expressed interest in purchasing the Rinkai Line alltogheter as part to implement a new railway link to Haneda Airport (currently only served by Keikyu Railway, a JR East competitor, and Tokyo Monorail, a JR East subsidiary) and enabling direct trough-services between the Saikyo and Keiyo Lines, however nothing official has been done yet.
TWR itself as a company is a third-sector entity, with 91.32% of the shares being held by the Tokyo Metropolitan Government, 2,41% by JR East, 1,77% by Shinagawa ward, with the remaining being held by 44 other companies, including Mizuho Bank, MUFG Bank and Sumitomo-Mitsui Banking Corporation
Bonus Link:
Official website of TWR – check out the "Fun & Fan" page.
Rinkai Line
Trough-Services with the Saikyo Line and the Kawagoe Line