New version! Old one still avaliable on the "Legacy addons" page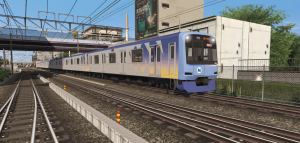 DOWNLOAD All the necessary dependencies are either included in this package or are avaible on the DLS. Soundscript by Rizky_Adiputra.
(Consists are included! Don't bother with placing individual cars!)
The Y500 Series was introduced in 2004 as the Minatomirai Line own rolling stock. Since the Minatomirai Line was supposed from the start to have trough-services with the Tokyu Toyoko Line (it effectively works as a southwards extension), it made no economic sense to go trough all the expenses of designing an entirely new train, and thus it was decided to simply base the Minatomirai Line trains on the lastest Tokyu design, wich at the time was the already successful 5000 Series.
Classified as the "Y500 Series", the first Minatomirai Line trains were delivered in early February 2004. Manufactured by Tokyu Car Co., the Y500 Series are strict derivatives of Toyku's 5000 Series, to the point of being nearly identical in technical equipment (an added plus for simplicity and ease of maintainance, since all Y500 Series trains are maintained at Toyku's depots), with the only differences being aestethic ones – most notably the uniquely striking blue and yellow fade livery arranged in a "wave" pattern (something that was inspired by Yokohama's traditional scarfs) and a different seat upholstery.
A total of six 8-car Y500 Series sets were delivered in time for the opening of the Minatomirai Line, entering in service with the line itself on the 1st of February.
Currently, all six sets are in service, being used interchangeably with Tokyu's 5050 Series on trough-services between the Minatomirai Line and the Tokyu Toyoko Line, and after the opening of the Fukutoshin Line, the Y500 Series can now be seen running also on Tobu and Seibu Railways' networks.
During the service life of the Y500 Series, only one serious incident happened – in 2014 – when set Y506 was rear-ended by Tokyu's 5050 Series set 5155 while stopped at Motosumiyoshi Station, luckily without deaths. Both trains were deemed damaged beyond repair and subsequently written off (and scrapped three years later in 2017). To replace the damaged set, Tokyu Corporation transferred 5050 Series set 5156 free of charge to Yokohama Minatomirai Railway, wich repainted and modified it to match the other Y500 Series sets and returned it to service under the new guise of Y500 Series set Y507 (Tokyu's own damaged train and the transferred one would be later replaced by two newly-built 5050 Series sets).