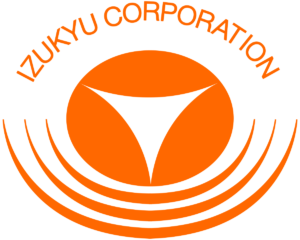 The Izu Kyuko Railway (sometimes also shortened as "Izukyu") operates a single 45 Km-long line along the eastern coast of Izu Peninsula, in eastern Shizuoka Prefecture.
The line runs from Ito to Izukyu-Shimoda, and it's essentially a southward extension of the Ito Line, wich  branches off the Tokaido Main Line at Atami station. In fact, the two were once planned as a single JGR line built to connect Tokyo with the Izu Peninsula, wich is popular among tourists and it's a famous "day-trip" destination from Tokyo.
Construction started in the 1930s, but was slowed by the great depression, with the first section between Atami and Ito (today's Ito Line) opening only in 1938. The outbreak of the Second Sino-Japanese war in 1937, and later, the Second World War, halted all construction progress.
After the war, and during the early days of the Japanese Economic Miracle, a ferocious battle erupted between three major railway companies: Tokyu, Seibu and Odakyu, all of wich were trying to enter businness in the potentially higly profitable tourist development of Izu Peninsula.
Nicknamed the "Hakoneyama War", this aggressive commercial war was fought by the three companies with Hotels, Resorts, Bus lines, lawsuits and railways alike. Notably, Seibu acquired the Izuhakone railway, wich had already been running in the Izu Peninsula, and Odakyu almost saturated the area with it's cream-and-blue busses, operated by it's subsidiary company, Hakone Tozan Railway.
Tokyu was lagging behind, but the gigantic conglomerate led by Keita Goto had an ace up it's sleeve.
Tokyu's resumed construction of the planned, but not completed railway between Ito and Shimoda, being eventually completed "mid-battle" in 1961, and opened as a third-sector railway fully owend by Tokyu: Izu Kyuko Railway.
After tiring 8-hours long debates mediated by the Ministry of Transport, the "Hakoneyama War" settled off by 1968 with a  "good neighbourship" agreement. As competition eventually stabilized, Tokyu emerged as one of the victors, as it had now a dominant position, not only because it had constructed an entirely new line, but because it had also developed several resorts and housing estates along the line (in true Tokyu fashion).
Ever since it's opening in 1961, Izukyu trains operated trough-services on the Ito Line up to Atami Station, and some JNR trains from Tokyo (such as the famous Odoriko) ran the whole lenght of the Ito and the Izukyu lines, terminating at Izukyu-Shimoda.
Trough-operations are still a mainstay of the line, with JR East operating direct services from Shinjuku or Tokyo. Between 1985 and 2018 Izukyu also had it's own express trains run up to Tokyo, using the 2100 Series Resort21 limited express EMUs.
Nowdays, the company enjoys relative stability, and it's still part of the Tokyu Group. As a matter of fact, it even uses the same logo as Tokyu Railway (altough in orange, rather than red).
Trivia#1
The "Hakoneyama War" was noted for having had several ridiculous episodes of not-so-loyal competition.
In one noted instance both Seibu and Odakyu had set employees with loudspeakers in front of Atami Station, trying to redirect the confused passengers to their respective companies' bus while trying to be heard above the other, shouting at maximium volume stuff like "TO IZU TAKE THE BLUE (Odakyu's) BUS!" – "NO! THE GREEN (Seibu) BUS GOES TO IZU!". 
Trivia#2
Long after the "Hakoneyama War" was settled, the three companies weren't fully reconciled until the 1980s. In fact, Seibu's 101 Series trains, wich had been designed by Tokyu Car Co. in 1979, were initally met with a little bit of skepticism by Seibu's managers and directors.
Trivia#3
The "Hakoneyama War" inspired a book by Shinshi Bunroku, wich was adapted into a 1962 film directed by Yuzo Kawashima, titled "Hakone".
The story talks about three different neighbouring inns, wich had friendly relationships until tourists plummeted in the area.
Electric Multiple Units