Part of the "209 Series & derivatives" megapack – jump to the previous or next part.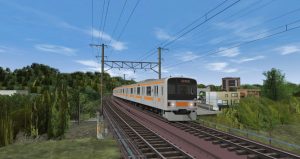 DOWNLOAD All the necessary dependencies are either included in this package or are avaible on the DLS. Soundscript by Rizky_Adiputra.
(Consists are included! Don't bother with placing individual cars!)
With the arrival of an additional E233-2000 Series set for Chiyoda-Joban Line trough-services, the two 209-1000 Series sets that had been used since 1999 became surplus and began to be used sparcely, until they were completely retired on the 13th of October 2018, after nearly 20 years of Chiyoda Line trough-services. However, depsite the relative age, the two 209-1000 Series sets weren't scrapped but instead transferred to Toyoda depot, for services on the Chuo Line. This was done to increase the number of available trains on the line, officially due to the platform lenghtening works to accomodate 12-car trains, but also as a means to reduce overcrowding and likely also to replace the one E233-0 Series set that was moved to the Nambu Line the year before.
Repainted in the Chuo Line's orange livery, the two 209-1000 Series sets re-entered services in March 2019, virtually unmodified from their Chiyoda Line trough-service days. Currently, both sets are still in service on the Chuo Line along the E233-0 Series, mainly between Tokyo and Takao, altough finding them on the Ome Line isn't unheard as well.
Trivia #2
The 209-1000 Series is one of the very few trains that went from running trough subway tunnels (on the Chiyoda Line) to running trough mountain tunnels (on the Chuo Line section between Otsuki and Takao and on the Ome Line).