Part of the "209 Series & derivatives" megapack – jump to the previous or next part.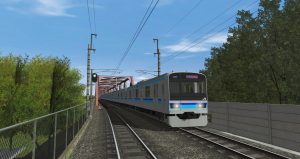 DOWNLOAD All the necessary dependencies are either included in this package or are avaible on the DLS. Soundscript by Rizky_Adiputra.
(Consists are included! Don't bother with placing individual cars!)
The E231-800 Series was introduced in 2003 to replace JR East's ageing Tozai Subway Line trough-service fleet, wich was then formed of the 301 Series (dating from 1966) and the 103-1200 Series (dating from 1971), both of wich had seriously deteriorated after well over 30 years of service.
Since JR East had already introduced new trough-service trains a little more than three years before, the 209-1000 Series for Chiyoda Line trough services with the Joban Line, the company decided not to desing an entirely new train, but rather to adapt and upgrade the existing design. Hence, the new trains were built with a bodyshell identical to the 209-1000 Series, with the main difference being in traction control equipment instead: rather than the relatively old GTO-VVVF inverter used on the 209 Series, the new trains were to be fitted with equipment similar to JR East's lastest commuter trains – the E231 Series, mainly the IGBT-VVVF inverter control, hence the new trains recieving the designation of "E231-800 Series".
(compare to the similar, but opposite, story with the 415 and 415-1500 Series: different bodyshell but same traction equipment, hence same series number).
A total of seven 10-car sets were manufactured jointly by Kawasaki Heavy Industries and Tokyu Car Co., with all sets being delivered to Mitaka depot in early 2003, entering in service in May of the same year, replacing quickly both the 103-1200 Series, wich was retired in July, and the older 301 Series, wich was retired shortly after, in August. Currently, all seven sets are still in service, running daily between Mitaka and Nishi-Funabashi or Tsudanuma, via the Tozai Subway Line. Unlike TRTA/Tokyo Metro stock, however, the E231-800 Series is not allowed to run on the Toyo Rapid Railway line as it's lacking the necessary equipment (vice-versa, Toyo Rapid Railway's rolling stock is not allowed onto JR East lines as it isn't fitted with ATS-P). Depsite nearing 20 years of age, there are no plans to replace the E231-800 Series yet, mainly owning to it's nature of being a "specialized" train.