Part of the "209 Series & derivatives" megapack –  jump to the previous or next part.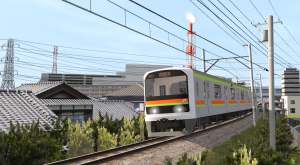 DOWNLOAD All the necessary dependencies are either included in this package or are avaible on the DLS. Soundscript by Rizky_Adiputra.
(Consists are included! Don't bother with placing individual cars!)
This little fleet of just two 4-car sets came to be in 2004, when Tokyo Area Waterfront Rapid Transit, the company operating the Rinkai Line, was re-forming it's 70-000 Series fleet to standardize it's trains to 10-car sets, in preparation for the commencment of full trough-service between the Rinkai Line and the JR East Saikyo Line. TWR went from five 6-car sets and five 10-car sets to a uniform fleet of eight 10-car sets, but in doing so, it ended up with four surplus cab cars and two surplus intermediate cars.
These six cars were purchased right away by JR East, wich intended to use them to replace the ageing 103-3000 and 103-3500 Series on the Kawagoe and Hachiko Lines. Initially, JR East planned to replace the older trains with seven 205-3000 Series sets, wich were to be converted from withdrawn 205-0 Series cars, however the sudden avaibility of much more modern ready-to-use rolling stock was a no-brainer, with JR East opting to convert only five 205-3000 Series sets, with the remaining two to be formed out of the ex-TWR cars instead. Furthemore, since the 70-000 Series was based on JR East's 209 Series, familiarizing with the new trains would've been relatively simple, given that the Kawagoe and Hachiko Lines already used a small fleet of 209 Series trains: the 209-3000 Series.
The purchase of the surplus TWR cars was finalized in early 2005, with all six passing under JR East ownership. Re-classified as the 209-3100 Series, the ex-TWR cars were formed in two 4-car sets, one formed of all ex-Rinkai Line stock, and the other formed of the two cab cars sandwitching two newly-built intermediate cars, wich had been manufactured by Kawasaki Heavy Industries in March 2005.
Fitted in the Orange and Lime green livery of the Kawagoe and Hachiko Lines, the two 209-3100 Series sets entered service on the 17th of April 2005, and toghetwer with the 209-3000 and 205-3000 Series, completely replaced the old 103-3000 and 103-3500 Serieses by October and March 2005 respectively.
After that, the two 209-3100 Series sets lived a relatively tranquil and uneventful life for about 15 years, until 2019, when due to the influx of 209-3500 and E231-3000 Series sets, converted from former Chuo-Sobu Line 209-500 and E231-0 Series sets (replaced by ex-Yamanote Line E231-500 Series sets, themselves replaced by the new E235 Series), the fleet of the Kawagoe and Hachiko Lines started to be radically changed, with the older 205-3000 Series being retired in 2018 and the 209-3000 Series being retired in February 2019. The 209-3100 Series was no exception, being retired in October 2019.
However, the two 209-3100 Series sets unexpectedly re-entered service in December that year, to "cover" for 209-3500 and E231-3000 Series sets that were unavaible, undergoing conversion to one-man operation. Finally, the two 209-3100 Series sets were retired again in January 2022, however, unlike the 209-3000 Series (all sets of wich were scrapped), the 209-3100 Series is being stored out-of-service at Kawagoe Depot, and might even re-enter service if necessary.
Trivia:
The 209-3100 Series is the first, and as of today, one of the only two rare cases of a thrid-sector railway rolling stock being purchased second-hand by a JR Group company. The other case is JR Kyushu's KiHa 125-400 Series, wich are ex-TR-400 diesel railcars purchased in 2005 from the closed Takachiho Railway.