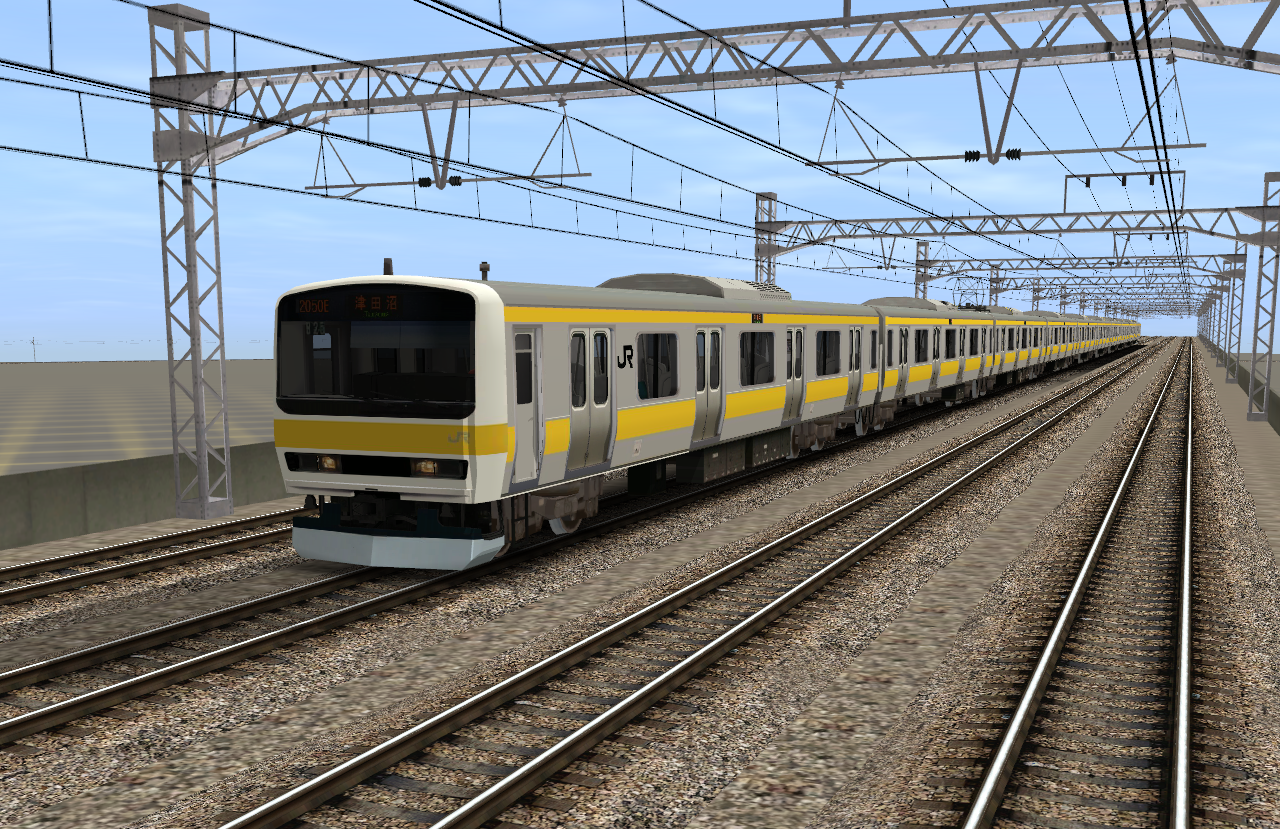 This is a reskin of the E231-500 Series made by Rizky_Adiputra and avaible on his website (jirctrainz.com).
All the necessary dependencies are included in this .rar, included in the original content's package or avaible on the DLS.
DOWNLOAD E231s are not ready yet, but the Chuo-Sobu Line desperately needs new trains.
The 209-500 Series was introduced by JR East in 1998 as a stop-gap mesaure until the first E231 Series trains entered service.
Using the new wide bodyshell of the in-production E231s (derived from those used by E217 Series trains introduced in 1994) with the older Mitsubishi Electric GTO-VVVF inverters of 209-0 Series trains, 17 10-car sets were manufactured by JR East istelf at it's Niitsu factory in 1998, and entered service on the Chuo-Sobu Line in the same year, togheter with the E231 prototype 209-950 Series (later reclassified E231-900 Series), supplementing and replacing worn-out 103 Series sets (introduced on the line in 1979, but of 1964 design).
The arrival of full-production E231-0 Series sets in the year 2000, led to a fast standardization of rolling stock on the Chuo-Sobu Line, wich is one of the busiest JR East commuter lines, and at the time already had a plethora of different trains in operation, including the 103 Series, the 201 Series and the 205 Series.
The 103 Series was retired from Chuo-Sobu Line duties by the 27th of March 2001, followed by  the 205 Series (sets transferred to the Saikyo Line) on the 27th, and finally by the 201 Series (sets moved to the Keiyo Line) the on the next day, 28th November 2001.
Transfers, transfers and transfers…
By December 2001 the only trains left on the Chuo-Sobu Line were the 209-500 Series, E231-0 Series and the sole E231-900 Series set.
In 2001, five surplus Chuo-Sobu Line sets were transferred to the Keihin-Tohoku Line (and later transferred again to the Keiyo Line in 2008)
The arrival of E231-500 Series set displaced from the Yamanote Line since 2014 led to the progressive transfer of the remaining 209-500 Series sets to the Musashino Line, where they run in 8-car sets.
In 2018, one of the last 209-500 Series sets operating on the Chuo-Sobu Line was shortened to 4 cars and converted into the new 209-3500 Series, for use on the rural Kawagoe and Hachiko Lines.
The last 209-500 Series set was retired from Chuo-Sobu Line duties on the 29th of April 2019.